In this LMScast episode Chris Badgett CEO of LifterLMS will discuss about the LifterLMS Black Friday deal.
LifterLMS is currently hosting an extensive Black Friday sale, offering a generous 50% discount on all products, accompanied by additional bonuses totaling $2000. This substantial discount will be applicable throughout the entire month of November, providing an excellent opportunity for every user to avail themselves of this deal. The discounted courses provided by LifterLMS include offerings such as the Black Friday Sales and Marketing Playbook and the YouTube Traffic System Training.
This presents an opportune moment to initiate your LMS business with a significant discounted rate. To secure this deal, simply use the coupon code BLACKFRIDAY23 at the checkout.
Chris emphasizes the business's distinctive strategy of putting the client at the core of operations and striving to provide value that goes beyond basic product functionality.
Here's Where To Go Next…
Get the Course Creator Starter Kit to help you (or your client) create, launch, and scale a high-value online learning website.
Also visit the creators of the LMScast podcast over at LifterLMS, the world's leading most customizable learning management system software for WordPress. Create courses, coaching programs, online schools, and more with LifterLMS.
Browse more recent episodes of the LMScast podcast here or explore the entire back catalog since 2014.
And be sure to subscribe to get new podcast episodes delivered to your inbox every week.
Exclusive Download! Stop wasting time and money researching online course and membership site tech.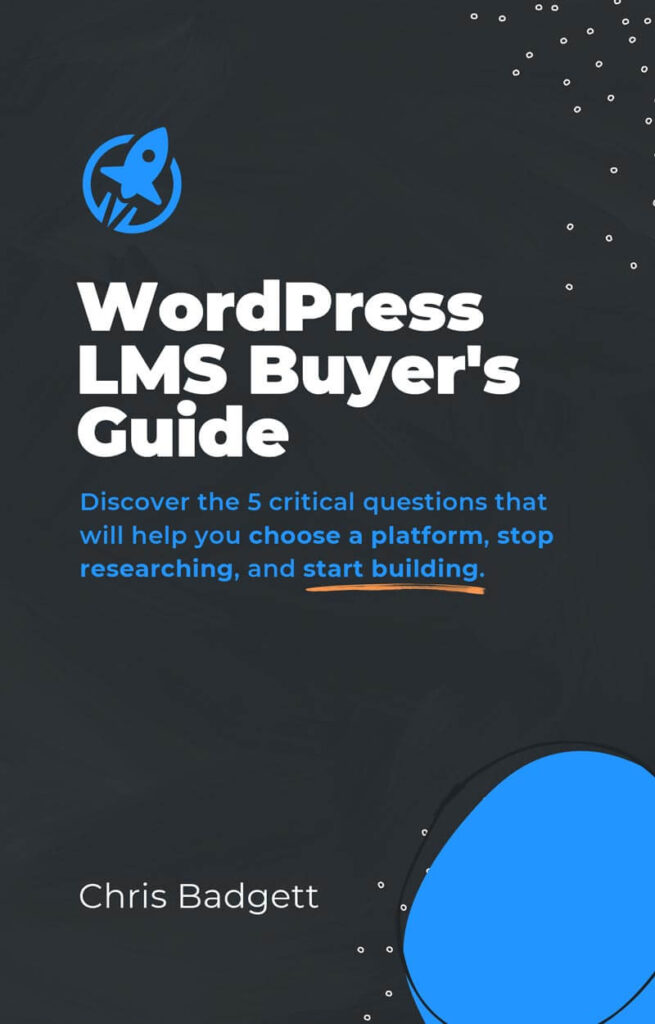 Episode Transcript
Chris Badgett: You've come to the right place if you're looking to create, launch, and scale a high value online training program. I'm your guide, Chris Badgett. I'm the co-founder of LifterLMS, the most powerful learning management system for WordPress State of the end, I've got something special for you. Enjoy the show.
Will Middleton: And we're live. Hello, everyone. And welcome back to another episode of the LMS cast podcast. My name is Will Middleton from LifterLMS. And today I'm joined by a special guest, Chris Badgett, CEO of LifterLMS. And we're going to be talking about the Black Friday all November sale. With 2, 000 in bonuses that LifterLMS is putting out this November, all November.
So thanks Chris, for joining me. And are you ready to dive in?
Chris Badgett: Yeah, I'm happy to be here and do a little bit of a non traditional episode here, special edition, and talk about all the things happening in the month of November here at LifterLMS.
Will Middleton: Awesome. And all November, we're running the biggest sales event of the year here at LifterLMS.
Chris, can you give us some information about what is the sale that LifterLMS is running? What's the deal? And we mentioned 2, 000 in bonuses. What are those bonuses included along with the sale?
Chris Badgett: Absolutely. So it's a 50 percent off sale. So this is the best time to get LifterLMS at a great price. If you're an existing customer, you can upgrade to a bigger bundle or getting an additional add on, which you don't have.
So this is a great time of year to pick up the software from LifterLMS at a big 50 percent discount. And all you need to do to get the discount is enter the coupon code BlackFriday23, that's BlackFriday23, all one word, doesn't matter if it's capitalized or anything, just go to the LifterLMS. com pricing page.
And go to the checkout and enter that coupon code black Friday, 23. We also have a special landing page. If you're watching this video version of the podcast, you can see the URL, the link. Below my name, it's just LifterLMS. com forward slash black dash Friday. And that'll go into the sale in more detail what's in it.
And it'll go over what the 2, 000 bonus bundle that comes with any new order. That is purchased during the month of November, 2023. So that's the short version of what's happening and how to take advantage of the sale. If you're an existing customer, by the way, you can get prorated for the value of your existing license.
So just shoot an email to help at LifterLMS. com put upgrade in the subject line. And we'll hook you up with an additional coupon. That's going to give you the prorated value of your existing license. So you can get an even bigger discount when you upgrade to a bigger bundle and get prorated. So there's something in it for everybody.
Will Middleton: Sounds great. And if you are an existing customer who upgrades, you do get the bonuses, right? If you buy during this period, you do awesome.
First and the bonuses, 2, 000 in bonuses. You can find that LifterLMS. com forward slash black dash Friday and existing customers can take advantage as well by emailing help at LifterLMS. com to not only get the 50 percent off, but also get the value that they've already got on their current licenses.
And so that sounds like an awesome deal, but let's talk a little bit more high level about LifterLMS. What makes LifterLMS? Unique in the space. Why do people use LifterLMS and what makes it special compared to other ways? You can put your content and courses online.
Chris Badgett: I think one of the biggest things that makes LifterLMS unique in the space is that we're not just a software company where we basically, instead of putting our, business at the center of what we do or our product, we actually put our customer at the center of our pro of the business and whatever they need to support them, we.
Deliver that this podcast is an example of how we deliver media and content. That helps course creators be successful, get started, not just with our software, but become better teachers. And I think the bonus the bonus bundle, the 2, 000 worth of bonuses is a great example of that because our mindset is how do we deliver even more value to our black Friday customers on any new order besides just getting a great discount.
So I'll just walk through the bonuses real quick, and then I'll talk some more about what makes LifterLMS unique in the space. One thing is we, want our customers to get more sales not all, but many LifterLMS users are selling their courses and their memberships and their coaching programs with LifterLMS.
And one of the ways to get more sales is to do great marketing. So what we've actually done is we've open sourced our black Friday sales and marketing playbook. And we've packaged that into a course valued at 500. Which walks you through how to leverage an event like the black Friday season to get more leads and sales.
So we're giving you free access to the black Friday sales and marketing one on one course, which is normally 500. And I would encourage you to get on early. With the LifterLMS Black Friday, 50 percent off sale and take that course sooner than later. So you can leverage Black Friday when there's all that buying intent in the market and get more sales for your courses and memberships.
The second bonus is our YouTube traffic system training course. So you might be watching this video version of the podcast on YouTube. If not go to our channel and subscribe. We have over a thousand videos on our YouTube channel. But what, and we do video marketing a lot. We love YouTube. We like video for communication, but I've also distilled everything that I've learned as a video marketer over the past 15 years or so into, if you could just make four videos on your YouTube channel that are designed in a way to attract leads and help those people seeing your videos by your courses and your memberships, how exactly do you do that without becoming overwhelmed, without becoming a professional YouTuber and using the second largest search engine in the world, which is YouTube to get traffic to your website and more sales.
So that's another course. It's a 500 value. The third one is we see a lot of unfortunately failure in the space. Which with people trying to make money online or build an education platform or a certification program, and they get hung up on some of the technical and the kind of business banking domain name, tech stack kind of questions.
So we distilled like what somebody should do from the very beginning to set their business up for success so they don't discover these blind spots later where they. Got the wrong domain name or didn't figure out the banking piece and how to collect money through the internet and everything.
And we've distilled all that decade of experience down into a checklist to make sure you're actually ready to go. I call it the online education company, startup checklist, super valuable. It's another 500 value. In my opinion, it's priceless because it can make your venture. It can make or break your venture if you literally skip one of the things on the checklist.
So that's, a great resource. The fourth bonus and there are six. So I'm getting there, but I'm almost done. We're doing a private mastermind event on December 4th PM. Eastern standard time for anybody LMS. That's normally a benefit that are. Top bundles customers get, but anybody who makes an order during the Black Friday, all November sale, we'll get the private mastermind event on December 4th.
So that'll be a lot of fun. Bring your strategy questions, bring your tech questions, even if it's not related to Lyft or LMS, and we'll help you be successful on that mastermind. You'll also get to see a lot of other. Course creators in the space and learn from each other. It's, another thing that makes LifterLMS unique and different is it's, we're not just a contact form on the website that you may or may not hear back from us.
We actually like to talk to people and our users and like to support them as best we can through multiple channels. One of those being a live. Call like that. So we'll, and I'll, just pause right there and pass it back to you. Will, what do you like most about the office hours mastermind event? You've been helping facilitate that for a long time and, came to it originally when you first came into the space what, makes it special?
Will Middleton: Yeah, I was looking at screenshots the other day from six years ago when I started coming to the Lifter on this office hours mastermind, and I wouldn't even turn my camera on because I was just new to the LifterLMS space and everything. And I remember Seeing Kurt on there when he was working at his corporate job.
Yeah, I've been involved with the office hours for a long time. And now that's a show that me and Kurt run and we bring on special guests to talk about specific topics like AI for course creation or optimizing, adding a CRM to your, course stack and your tech stack. So we talk about all kinds of specific topics with special guests, but we also make space for our customers to ask questions about tech strategy or just general hangout.
It's a. Really the community part of the LifterLMS as a product. And you mentioned Chris, that LifterLMS is not just. A software product. It's also, it's more than that. Like you said, the Black Friday, November bonuses and the office hours itself is like the community and the mastermind. And so the really valuable part about the office hours.
Mastermind call is connecting with other course graders who are successful at different levels in different industry, what technology tools they're using. What would recommend you do next for your online course site? Yeah. It really unlocks those roadblocks and provides a community as entrepreneurs.
We're frequently in our own homes, in our own spaces, working on our projects, but this kind of creates that community where we can help each other get unblocked from various things that are stopping us in our business. Maybe we struggle with marketing. Maybe we're considering using another place to host our videos or something like that.
The mastermind is a perfect place to bring any of those roadblocks, help get unblocked other course creators. In our ecosystem. So that's what I see is like the real value of that call.
Chris Badgett: Yeah it's a fantastic resource. So come check out that, that call. It's a great bonus. Another bonus we have is the, we, not everybody's a great graphic designer and gamification is a big part of how to make a learning management system more engaging and sticky and fun for your users.
So we designed a certificate background. Set. This is a 200 value so that you can add beautiful certificates when people complete a course and you don't necessarily have to be a continuing education provider or traditional school that requires a certificate to use certificates. You can also use them in a fun way, and we've got some great looking graphic design assets for you.
And the final bonus, another graphic design asset is a achievement badge set so that you can add gamification. They're basically like badges that pop up and you can set it all up and lift your LMS when those badges are triggered. Maybe when somebody passes a quiz or completes a certain lesson or a course, they get an achievement badge.
And we've got. Beautiful set of those designed for you. They're really nice. And we went a little over the top. I got to say, we actually put an additional set in there too, that we're not even advertising. So there's all kinds of different graphic achievement badges that you can use to add more gamification to your learning management system.
So all those bonuses add up to 2, 000 worth of bonuses is probably worth more. Like some of these things are really priceless in terms of the value you get from them. So that's just a great benefit for any new order. If you purchase. A new order during the month of November and 2023 during our black Friday, all November sale, be sure to enter the coupon code on checkout black Friday, 23 to also get your 50 percent discount and the bonuses literally will come to your email seconds after you buy.
So all you have to do is just make your purchase. Check your email. You'll have an account on liftrlms. com where you can access the software and your license key. So immediately on, after purchase, you'll have the software and the bonuses will be waiting for you in your inbox.
Will Middleton: Awesome. And just to recap those six bonuses real quick.
Those are so LifterLMS. com forward slash black dash friday is where those are located. Chris and the 6 bonuses are the YouTube traffic system training course. If you're trying to start a YouTube channel and build traffic to your core site, YouTube is a great way to do that. And that course will help you kick that off.
The 2nd bonus is. The black friday sales and marketing so running a black friday course as a course creator We train you on how to do That's why it's an all november sale, because you can pick it up november 1st today Or anytime in november and set up your black friday campaign for your customers.
And then the third bonus was online education company startup checklist so avoiding classic mistakes that education companies frequently make and how you can Get around those. And then the fourth bonus is the mastermind along with some graphics. I really like that stack of bonuses that you described, Chris, because it really.
helps you get unblocked no matter where you're at. Maybe you've already created your course and you're struggling to get users viewing your content. So then you dive into that YouTube traffic system, make some of your content public and start getting people into your website. Maybe you're stuck on the tech and trying to get your certification.
That's part of the instructional design process. No matter where you're at in your course building process, there's something in that value stack of bonuses that will get you to the next level. So I think that's a really awesome stack there.
Chris Badgett: Thanks. Thanks for reiterating that. And just to continue on where we were at in terms of what makes LifterLMS unique in the space.
I can really, I have a lot of ideas around that, but I'll also just share what I hear from our customers over and over again. So one of those things is that LifterLMS is the most feature complete, customizable, all in one learning management system solution for WordPress. So if you want the best tools for creating, selling, and delivering online training in WordPress, That's LifterLMS.
And if you get the infinity bundle or everything bundle, you can get that at a great price for 50 percent off right now. And you can basically get everything. The most powerful solution in WordPress. LifterLMS is not going away. We've been around for almost a decade now, and I feel like we're just getting started.
So if you're wanting to hitch your wagon to a dependable company that offers great support that is not going away that has consistently delivered year after year this is a great time to pick up LifterLMS. Our outstanding support is a big thing that makes LifterLMS. It's unique in the space.
People say it over and over again. I don't know how many emails I've seen where somebody's complimenting Will or Kurt for helping them through an issue or Nadia or Nick helping them with whatever the challenge they were having. So at LFTR LMS support is not a cost to be minimized. It's a feature of the product and we treat it that way.
And then the final thing I'll just add is that the, brand the, community aspect of LFTR LMS, we're not just a software company. We're a community, we're a media company. We're in the business of customer success. And we have a mission to lift up others through education. It's something we care deeply about.
And I think that shows through our brand and everything we do. So that's what makes us unique in the space.
Will Middleton: Awesome. And you mentioned LifterLMS has been around for almost 10 years. We had our nine year birthday right in this last October. So this last October LifterLMS turned nine years old. And so Chris, you've been in WordPress for longer than LifterLMS has been around longer than nine years.
LifterLMS, just the product has been around for nine years. And that's a long time, and we might have some viewers, people in our community who are building courses, considering building courses, considering creating a side hustle. Or building a platform, building a community, building a WordPress website.
LifterLMS has been around for a long time and will probably be around for a long time. But why is now the time to take action on the black Friday sale for anyone listening to the podcast? What do you think makes now a special time? Not only because you can get a great deal on LifterLMS, but is there anything in the current 2023, 2024 Online ecosystem where you see opportunity for course creators to get involved, like with your own mess has been around for nine years.
Is it too late, is it too early? Is it just the perfect time? What do you think the mentality should be for our users? Getting into lifter building sites in 2023, 2024.
Chris Badgett: Whether you're a do it yourself course creator or coach or expert, or you're a WordPress professional, who's looking to do larger projects and make more money delivering high value platforms like learning management systems.
These, this area is continuing to grow and scale. Online education has been around for almost. 30 years at this point, but in my view, it's still the beginning. There's a lot of innovation still happening in the space. There's more and more users coming online. Or if you think about the whole world and access to the internet and you can really build a global company teaching online and as WordPress improves, as video improves, as audio improves, as video cameras and iPhones and everything else improves.
You can ride that wave into whatever this multi a hundred billion dollar industry is, and really focus in. And in terms of timing, what we notice is this time of year is when people. Do a lot of building the world's a big place, but in the Northern hemisphere the winter time, people tend to be in the office a little more.
Kids are in school, they're building their plat their, website projects and their business from home or from the office. So we just see even more activity this time of year. And you also have the opportunity around the new year to really set your goal. And your intention follow the ideas and the online education company, startup checklist, get your business formed.
If you're watching this today or listening today, and we're broadcasting on November 1st, you could essentially get LFTR LMS, get a great deal, get the bonuses, cruise through those over the next week, and then have your project launched. Very soon, even before the end of the year, or even faster than that, if you're a pro at building websites.
So it's just a great time of year. It's a great industry. And the LifterLMS team is a great group of people here to support you on that journey.
Will Middleton: Yeah, absolutely. And I think. The question of I used to think it was in a scarcity mindset of thinking it's too late a lot. I don't think it's too late anymore to get involved, but there's also that question of too early.
Maybe my product doesn't feel ready. I don't feel ready to launch my online course. The iPhone 15 came out and now I can record and do color grading on my footage. What new technology is going to come out? I'm not ready to make my course. Is it too early? Too late. So I think that makes a great time of year to get involved to get started in the space because I still think that WordPress is.
Relatively young as a product and LifterLMS on us as well. So that really speaks to and also the great deal of just getting started. I'm glossing over the fact that the Black Friday sale is 1 of the best sales that we've ever run along with the 2000 dollars and bonuses might be like the best and just to get you unblocked no matter where you're at in that course creation process.
And I think. This November would be a great time to put together some YouTube videos, put together
launching a course,
For my product I would install my LifterLMS. I would record my videos. I'd upload them to my video host and then I would launch my course, make it publicly on sale and then I wouldn't get very many science to get 5 science, but I was expecting maybe 1000, but really that. That starting, I'm realizing that launching your site is really like starting line and that would be a great point as a new year's resolution to have like your, site created your WordPress site created.
You've gone through our video assets and created your course. And then you're ready to start marketing. Does that seem like a, like a. Good advice, a good timeline. What do you think about those ideas around launching?
Chris Badgett: As the starting line to go into the new year with exposure to just so much time in the industry and literally hundreds of thousands of aspiring course creators and coaches and online educators.
The thing I see in the ones that are the most successful is they just start. They just make it better over time. And as a technology evolves, as their expertise evolves. As their understanding of marketing and how to get clients evolves, they just keep improving and practice continuous improvement and iteration over time.
That's really the key to success is to just start. So that's my advice to you at the as we land the plane on this interview, if you're watching this, if you're an existing customer and you want to upgrade and get a bigger bundle, just shoot an email. To help at LifterLMS. com and get prorated, put upgrade in the subject line.
And for everybody out there, go to LifterLMS. com forward slash black dash Friday. And you'll see all the bonuses. You can go pick it up. I'd encourage you to do it sooner than later and take advantage of those bonuses soon so you can start getting the benefits and getting rolling with the best software soon.
But all this ends at the end of November. So we wanted to take the scarcity and all the, pushy sales tactics out of Black Friday, Cyber Monday, and just provide the benefit for the whole month. It's there for you. So check us out at LifterLMS. com. Thanks Will for collaborating on this podcast.
And I hope you have a great rest of your day.
Chris Badgett: And that's a wrap for this episode of LMS cast. Did you enjoy that episode? Tell your friends and be sure to subscribe so you don't miss the next episode. And I've got a gift for you over at LifterLMS. Go to lifterlms. com forward slash gift.
Keep learning, keep taking action, and I'll see you in the next episode.
Exclusive Download! Stop wasting time and money researching online course and membership site tech.